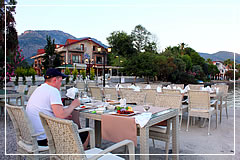 In the peaceful atmosphere of the Göcek shore, you can enjoy the unique tastes...

Situated on the seafront of Göcek, our hotel restaurant serves 12 months of the year.

Our restaurant with its indoor area of 50 people, outdoor area of 80 people and 50 people area by the sea makes you feel priceless happiness of being in Göcek every season.

You can find tasty varieties of Turkish and World cuisines in our wide range of products. Healthy meals, salads and grapes prepared with organic products prepared from the gardens of the public kitchen.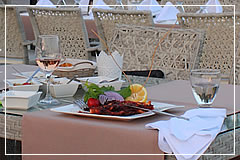 • Daily fresh fish, salt fish, shellfish
• Kebabs, scallops, bonfils, testi kebab, tandır
• Appetizer, Chicken Grids, Casseroles
• Fajitas, macaroni, vegetarian dishes
• Organic salads and grapes
• Children's menus
• All alcoholic and non-alcoholic beverages and soft drinks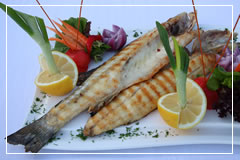 Our restaurant will be happy to offer you specialties ;

• Crab stuffing
• Greek style octopus grill
• Baby squid grill
• Squid stuffed
• Mediterranean sauce fish varieties